When I think of Morocco, I think about the Sahara Desert and this is exactly why I wanted to visit Morocco so badly. Planning your trip? Here's what to expect from a trip to the Sahara Desert and more importantly, how to plan it the right way. 
There are many options when it comes to finding the right desert tour. Although, many people get scammed or end up having a bad experience. To avoid this, I invite you to read this post.
Everything You Should Know About the Trip to the Sahara Desert
Where is the Sahara Desert?
A part of the Sahara Desert is in Morocco. You can find it in the south of the country as well as in the east (very close to the border with Algeria).
When it comes to visiting the Sahara Desert, there are two places were tourist usually go. 
Erg Chebbi and Erg Chigaga.
These two spots are popular for their sand dunes.
Erg Chebbi is known for its high dunes and its easier access while Erg Chigaga is known for its vast dunes and its remoteness.
We went to Erg Chebbi which was easier to go to. In this post, all the information is going to be about Erg Chebbi.
How far is the Sahara Desert?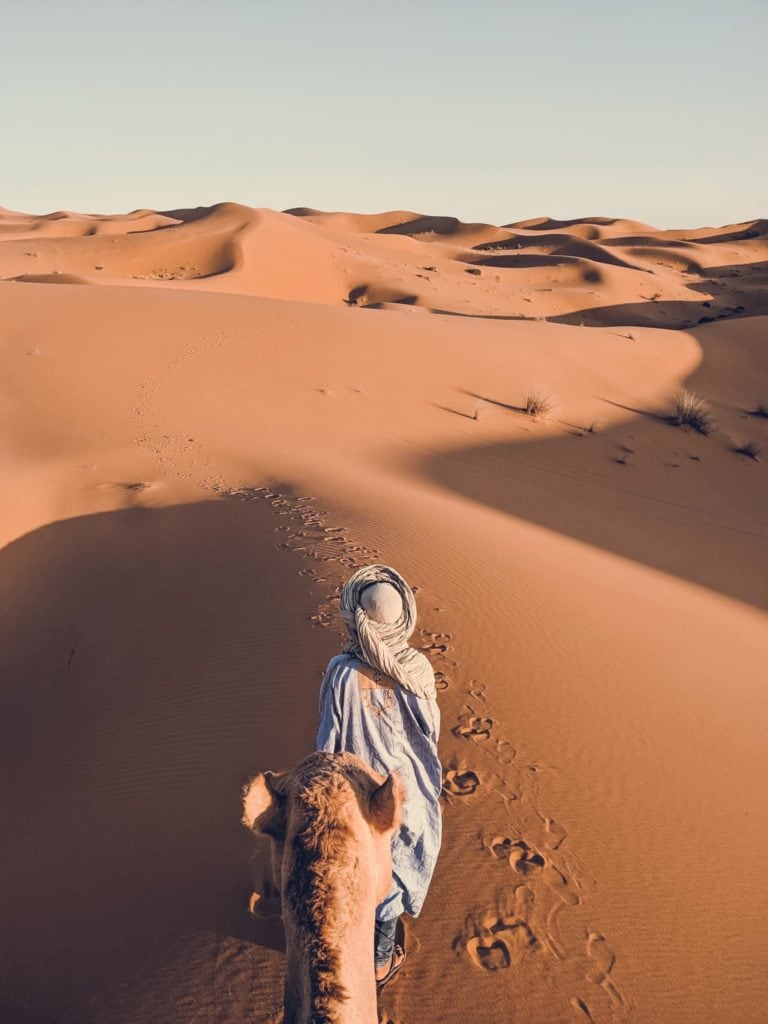 From Marrakesh, you can expect a lot of driving. We are talking about roughly 600 km depending on the route chosen. Although, even though it doesn't seem this far when you take a closer look to the map, you should know that driving in the Atlas Mountains takes time. There's construction on the road, twisty roads and it does take a lot longer than we could imagine.
To give you an idea, you could expect about 9 hours of constant driving to reach your destination. If you stop along the way, it can easily take up to 12 hours.
Usually, the tours to the Sahara Desert include stops along the way. We did stop on our way to the Desert to explore other parts of Morocco (you can read our full itinerary here). Although, when we left the Sahara Desert, we went all the way back to Marrakesh and it took us about 11 hours with very limited stops along the way.
What's the closest airport?
The closest airport would be Errachidia Moulay Ali Chérif. Another alternative could be Ouarzazate which is still far, but closer than Marrakesh for example.
Can you squeeze it on a day trip?
Unless you're flying to one of the airports mentioned above, I guess, yes, you could, but what would be the point of that? You'd spend more time in a car than in the Sahara Desert.
If you're currently in Marrakesh, then forget it. It's impossible to do it on a day trip.
How many days do you need?
We did our Sahara trip within 3 days (plus 2 days in Marrakesh). On day 1, we stopped along the way to see different viewpoints. We spent the night in a Riad in Rose Valley. On day 2, we stopped along the way and we finally reached our destination – the Sahara Desert. We spent the night there. On day 3, we drove all the way back to Marrakesh. 
That said, I think you should take a minimum of 4 days. This way, you won't be spending most of your days in a car. Considering the amount of driving required to get to the Desert, I think it would be worth it to spend two nights in the desert.
When is the best time to visit the Sahara Desert?
If the summer is known to be too hot, the winter can be quite cold at night. We went in September 2019, which was ideal. The days were hot, and the nights were colder (refreshing). The locals recommended us to go during the wintertime, but I'm guessing it might be a bit cold for me.
At the end of the day, there's no bad timing to go to the Sahara. But… you should know that yes, it can rain sometimes. We didn't experience any rain, but a friend of ours had rain during his trip in August.
What to pack for your trip to the Sahara Desert?
Depending on the season, this list could change. Although, this is what we needed for our Sahara trip.
Light jacket for mornings and evenings – it was quite cold during the sunrise and at night time.

Comfortable sandals – walking in the sand with shoes is a feeling I truly hate, ha.

Scarf or sarong – this can, of course, help you protect yourself from the sun, but let's be honest, it's quite photogenic in the desert.

Sunscreen

Camera

Flashlight (or just use your phone) – if you're planning on going outside to see the sunrise, it's going to be dark.

Motion sickness pills – while you will be driving along the Atlas Mountains, you could get sick if you aren't good with twisty roads.

Comfortable and light clothing

Enough cash – otherwise, you can always ask your driver to stop at an ATM, but depending on where you are, there might be a lack of options.
What to do in the Sahara Desert?
We loved our time in the Sahara Desert. In fact, one night wasn't enough for us. We would happily go back and spend more time there. We loved the quiet vibes. It was so relaxing. Here are a few things you can do while in the Sahara.
Experiencing the sunset

Experiencing the sunrise

Stargazing at night

Quad bike adventure

Camel trekking

Bonfire & Berber music

Visiting a nomad family

Sandboarding

Relaxing while enjoying the quiet vibes
How far in advance should you book your tour to the Sahara?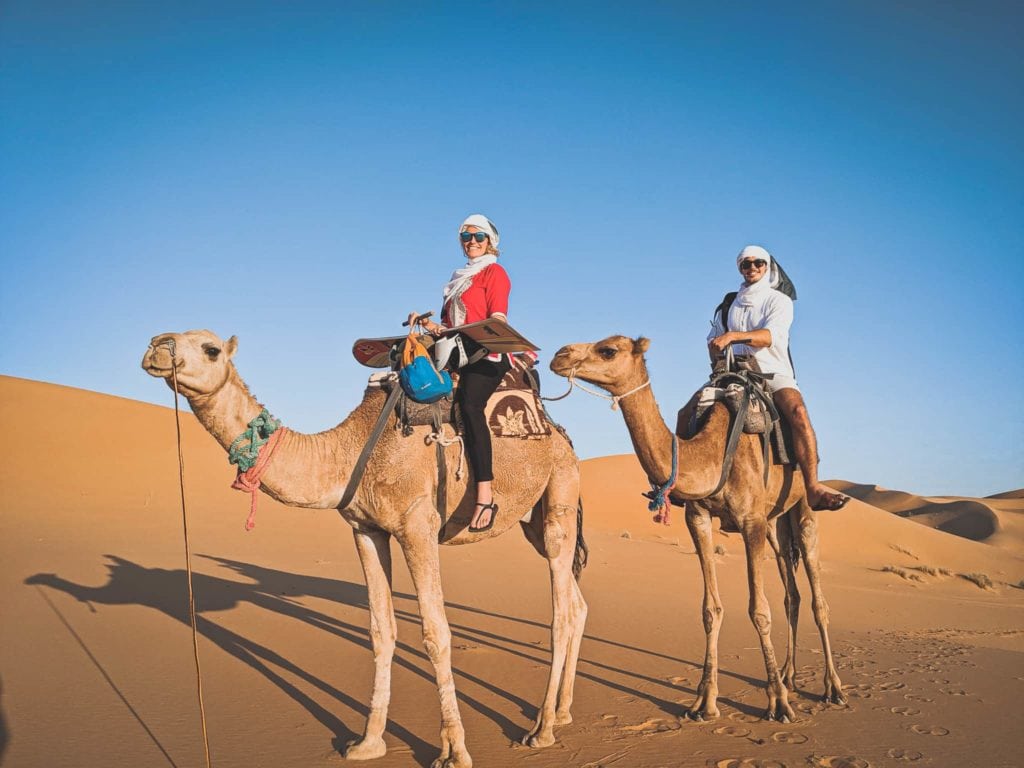 If you're heading to Morocco during the high season, you might want to book your tour in advance. Although, our driver told us that people sometimes book 24 hours in advance only. It's obviously at your own risks. I'd recommend booking it in advance so you make sure to have a positive experience.
If you risk it and there's no spot available, you might end up having to book something on the spot and the quality of the tour might be lower. I've heard horror stories coming from people who decided to book something from the vendors on the street last minute.
Planning Your Morocco Desert Tour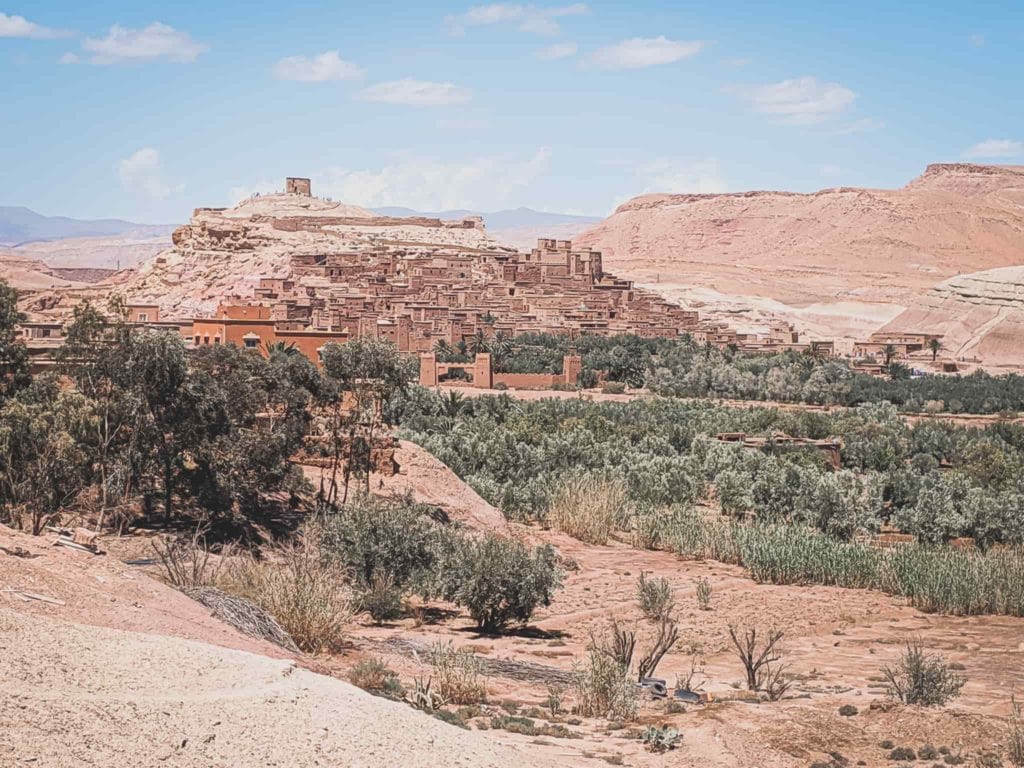 Our trip to the Sahara was organized by Morocco Traveling – a lovely family business who gave us an amazing service. We had picked the 3-day tour from Marakkesh and they also provided transports for our arrival and departure.
They offer custom-made tours, private tours and group tours.
Our driver Atman was lovely and helpful. He customized our itinerary for our own needs. For example, we are both caffeine addicts, he would add stops for a coffee break when he saw that our faces were low on caffeine. This is what I call VIP service, ha!
Benefits of Booking a Tour with Morocco Traveling
Many people have bad experiences in Morocco and it's a shame because it gives a bad reputation to the country. With a big amount of scams out there, it's even more important to lower the risk and simply book a tour.
From the beginning at the airport until the end, we only had positive experiences. And that's thanks to Morocco Traveling. They organized everything for us so we can just make the most of our trip without having to worry about anything.
Honestly, I'm not usually a big fan of an organized tour, but I'm very glad we did this tour. And, I can't wait to go back to Morocco.
Tips for Picking the Right Sahara Trip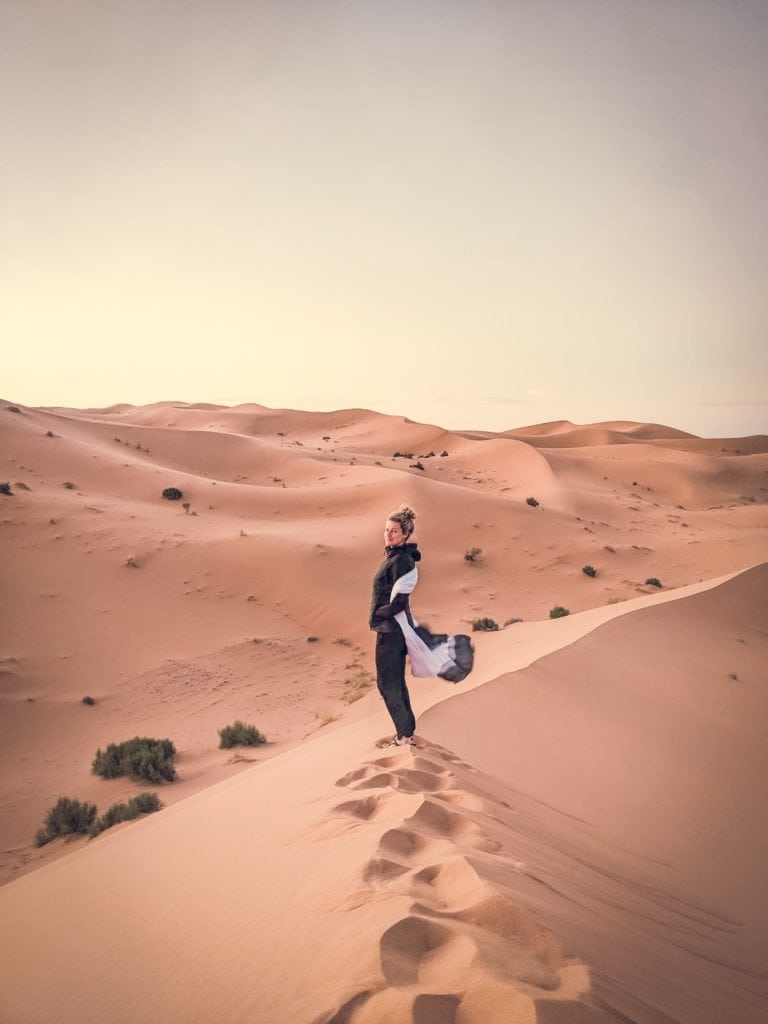 Read the Reviews
Seems silly, but reading the reviews, whether it's on TripAdvisor or on Facebook, is an important step. This is how you will avoid being a victim of a scam. If you aren't sure about a company, follow your guts and look for another company.
What's Included
Make sure to know what is included in the tour you will pick. For example, our tour included pretty much everything apart from the lunches and personal expenses. Also, there were also optional activities on the way (such as museums) that aren't included. We decided to skip them as we don't like museums.
We had an incredible trip to Morocco and we LOVED the Sahara Desert. Are you considering going? Do you have any questions? Have you been? How was your experience? Let us know in the comments.
---
BEFORE YOU GO TO MOROCCO
☑ Book your flight: If your flight isn't booked yet – check out the flights on Skyscanner or via Google Flights. My top saving tip is flexibility. If you're flexible, you should be able to find a cheaper flight.
☑ Book your accommodation: I always use Airbnb and Booking.com. If you'd rather stay in a hostel, you should take a look at the options on Hostelworld. If you click on the Airbnb link and you don't have an account yet – you'll get a $30 discount on your first booking.
☑ Protect your cute face: Oh, you may want to protect your cute face with a travel medical insurance. I would suggest SafetyWing as they offer the best rates, especially for long-term travelers. Otherwise, you can also take a look at World Nomads.
☑ Pack the essentials: You can consult this list when it's time to pack your bag! Do not leave without a universal charger, a power bank and your passport!
☑  Do you need a visa? If you aren't sure if you need a visa, it would be a smart idea to take a quick look before you go. You can use iVisa – it's super useful and easy to use.
SUPPORT US
Get your monthly (and funny) dose of adventures! Subscribe now! You may also want to follow us on Facebook.
Disclaimer: This post may include affiliate links. If you click one of them, we may receive a cute commission at no extra cost to you. It's a great way to show your support. Thank you.
This is a syndicated post. To view the original web page Click Here