My Favorite Beautycounter Products (and what I don't like)
I've used Beautycounter products for 7.5 years and I've tried almost every single product they sell. And while I have lots of blog posts reviewing individual products, their Never List, FAQs about being a consultant and about their compensation plan, I've never had a spot where I list all my favorite Beautycounter products (as well as the ones I don't love). So, whenever Beautycounter has a big sale (like they do right now), I simply email my top picks. But, I thought it'd be handy to have a spot on the blog as well since this can be accessed anytime.
Plus, right now they're having a sale, so it's a great time to shop! Here are the details:
15% off sitewide (no minimum!)
20% off orders $250+
25% off $250+ for Band of Beauty Members only!
Their customer loyalty program — Band of Beauty — is also on sale for $19 (it's normally $29) and it's absolutely worth joining. Not only will you get 25% off on your $250+ order during the sale, but you'll get free shipping on this order (and all future orders over $100), plus 10% back on every order to put towards your next orders.
For example, if you spent $250 to get 20% off, you'd get $25 in product credit back and save $6.95+ on shipping on that order ALONE. (Shipping can sometimes cost even more since it's based on weight!) Once you join BoB, you'll get 10% product credit back for a year (and get free shipping on $100+ orders). You'll also get a free gift that appears in your cart when you enroll. It's dumb not to add it to your cart this week!
Okay, back to my favorite products.
I first listed the products I use regularly, and then products that I've used in the past and like just fine, but am currently using others that I like better. Then, I listed products that I don't like. If there's anything you're curious about that I didn't mention, feel free to leave a comment and ask. I think I've tried every single product they sell!
Before I list out ALL of my favorites (since there are a ton), I wanted to share my top 3 picks. If you were to only buy a few items, let it be these:
#1. All Bright C Serum – This smells amazing and is fantastic for dull skin. It also helps protect against sun damage.
#2. Overnight Resurfacing Peel – A safer alternative to retinol. This is great for anti-aging (fine lines, skin spots, etc.)
#3. Countertime Tetrapeptide Supreme Cream – The most hydrating night cream I've ever tried. This is great for dry skin but it's not greasy.
My Favorite Beautycounter Products
Skincare
This is a no-frills cleanser, but I honestly love it. I like it slightly better than the Countermatch and it's cheaper. It's great for teenagers without any skin concerns or if you have extra sensitive skin.
This is a great cleanser too but I prefer the consistency of Counterstart.
I always have this on hand! I don't use it on my face often since it can be drying, but I use it on my underarms daily. Review here.
This is the best exfoliator I've ever tried! It's a little powder that can be added to any cream cleanser and makes my skin feel so smooth but never strips it.
This is toner designed for dry skin. It makes my skin feel hydrated right upon application and it actually has the highest amount of bakuchiol of any of their anti-aging line, so it's a must if you have dry, aging skin.
I've tried countless night creams. This is still my favorite. It's incredibly thick, but never greasy and a game-changer for dry skin.
I often try other eye creams but always come back to this one!
I LOVE this product and think everyone should have it. It's a pregnancy-safe alternative to retinol (and it's also more gentle) that helps with fine lines, dark spots, skin texture and can even help with breakouts. Review here.
I've tried 3-4 vitamin Cs and still like this one best! It's amazing for dull skin. Review here.
I hate doing masks but this one makes my skin look so good that I force myself to use it a couple of times a month. Review here.
Also, I don't use any of the Countercontrol line since it's for oily skin and I have very dry skin, but my husband has used CounterControl for years and loves it (and it cleared up his persistent acne).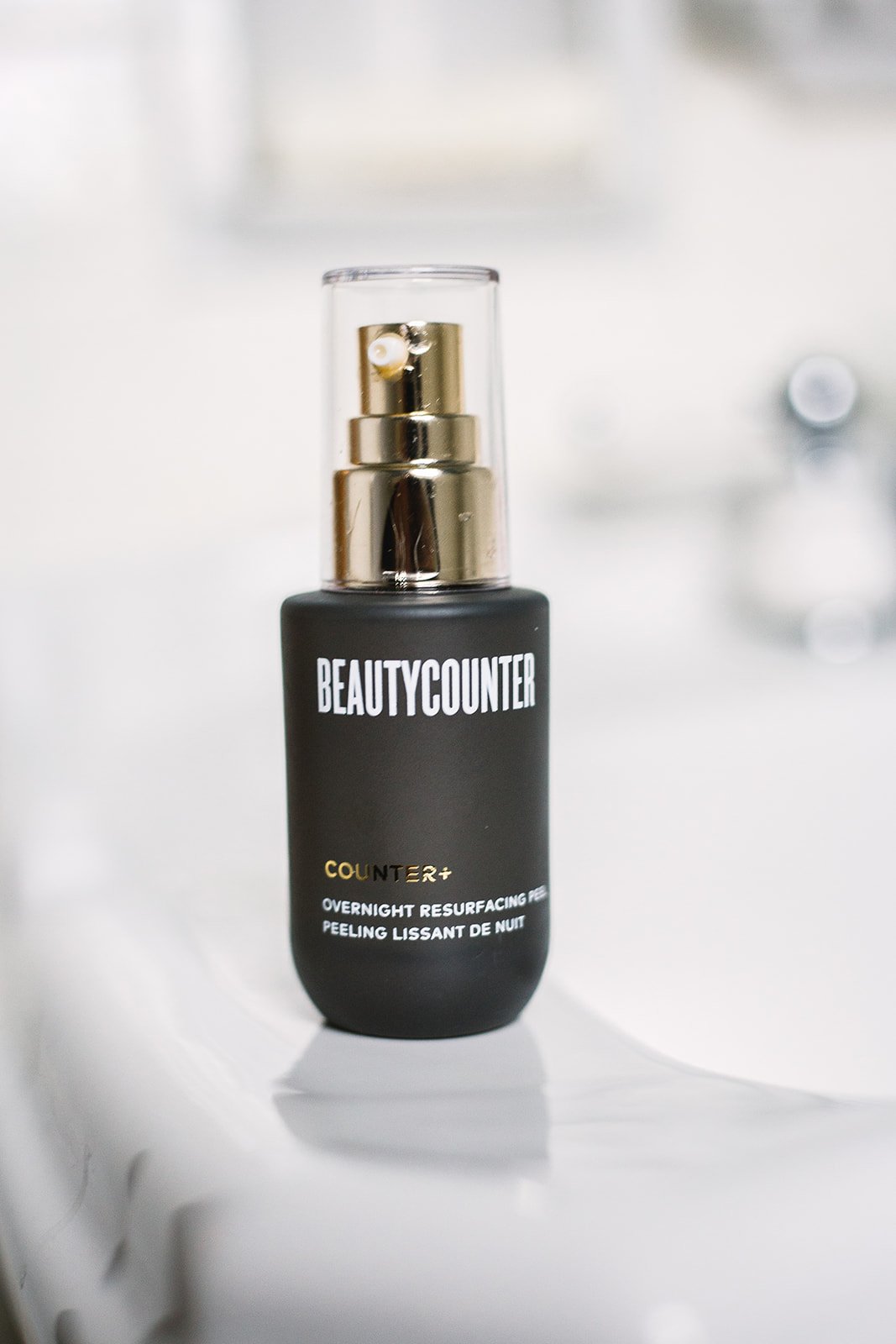 Makeup
This was the first foundation I ever liked and I still like it, years later. I use a different foundation almost every day since I just enjoy using different products based on my mood and what look I want and I use this one about once a week. It's medium coverage and not too matte or dewy. It's a great option for photos since I know it will always look natural. Review here.
I have a ton of blushes I like from Tarte and Ilia, but Beautycounter's cream blush is near the top of the list! I especially like the Goji shade. Review here.
I absolutely LOVE their sheer lipstick in Lily. It's the prettiest, natural shade and can be applied like a balm without a mirror. I always have this on hand. I have loads of shades, but Lily is my most worn. Review here.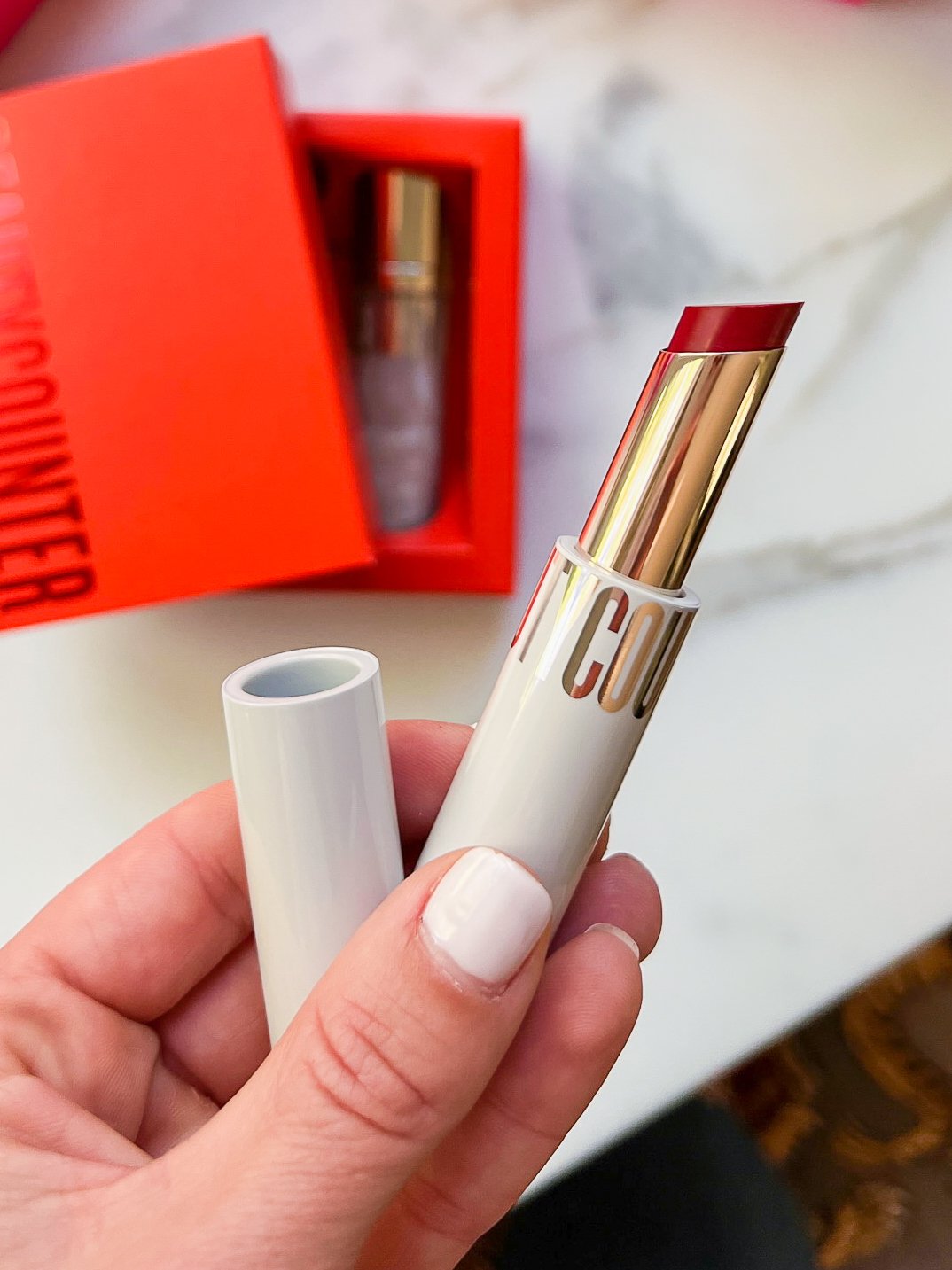 Body Care
I'm not too picky about shampoos (well, other than scent which I am VERY picky about) but my husband and I both use and like this.
Same as the shampoo! It's find (I also use it to shave my legs since Beautycounter discontinued the world's best shaving cream. Alas.) I do use the Colleen Rothschild intense moisture hair mask 1-2x a week.
Love this. Smells amazing and a little goes a long way.
I love love love love this. It's so underrated. Smells amazing and makes my skin look like new. I always use it before I apply self tanner.
I just started using this so I don't have a solid review yet, but I'm hopeful it helps with some of the bumps I have on the back of my thighs. I know a lot of people have found it helps with bumps on the back of their arms too.
Nothing fancy, but my husband and I both use it. It has a light smell and is hydrating but not greasy. I also like that I can buy refills for it. Switching my body lotion to something safer was one of the first swaps I made since it covers my entire body.
I have a few clean deodorants that I rotate among, but the Clean Deo in Lavender is one of my favorites! Review here.
This is pricey but I LOVE it. However, it will ruin all other hand sanitizers for you. It smells amazing, helps prevent aging on your hands and is never sticky. Review here.
I love their sunscreen face stick and keep one in my swim bag, golf bag and running bag. For sunscreen lotion and mists, I slightly prefer Florida Squeezed Mist Sunscreen since it applies clear, but Beautycounter's are solid too. You will have a little bit of a white cast though. Review here.
Products I like… but I have others I like better
I really really like this and if I had to pick my favorite cleansing oil, it'd be this. But I'm on a cleansing balm kick lately so I haven't ordered this for a bit. But if you definitely want a cleansing oil, you'll love this.
This is a solid serum for hydration and fine lines, but it's not life-changing. It's definitely more affordable than my absolute favorite serum though.
This is a great option for dry skin, but I'm currently working my way through a similar one from Colleen Rothschild.
This is a lightweight daytime moisturizer and contains bakuchiol. It's hydrating but not heavy. I am currently using an OSEA moisturizer in the AM, but once I run out of that, I'll likely go back to the Soft Cream.
I slightly prefer the Dime Wonderscreen (and I love its packaging too), but I'd say this one is about 95% as good. I'd buy whichever one was cheapest or wherever you are placing an order. Review here.
I like this, but prefer a heavier moisturizer for nighttime. If you want a nighttime moisturizer that doesn't feel heavy, you'll like this.
This is a good option if you have a combination or sensitive skin. I prefer something with more anti-aging active ingredients that's a little more hydrating.
I like this and used it for years, but I like the Colleen Rothschild No. 9 Face Oil better. Review here.
I don't have one I like better, but I don't use a makeup primer often enough to list it as a favorite. Review here.
I used this for years and really like it, but I prefer a little more coverage for my under-eye area these days and use Tarte's Creamy Shape Tape Concealer. If you want light to medium coverage, you'll like Beautycounter's concealer.
I found that this container ended up leaking a bit and made a mess in my makeup bag. Plus, I'm not much of a gloss person. If I am wearing gloss, I like Tarte's Maracuja Juicy Lip.
Beautycounter products I don't like
I used to LOVE this but hated that it stung my eyes. I started using the Colleen Rothschild cleansing balm recently and much prefer it – it's more hydrating and doesn't sting my eyes.
It almost pains me to say that I don't like this since it was my very first Beautycounter product that made me fall in love with the brand, but as I've aged and my skin has gotten drier, this tinted moisturizer doesn't work for me anymore. But, it still has a cult following so if you have normal or oily skin, you may love it. Review here.
I liked this when I first started using it, but after a few weeks, I started breaking out. When I stopped using this, the breakouts went away. I've tried 3 different times to incorporate it, but broke out every time. But some people must love it considering it's so popular.
I LOVE how this looks and for a very clean mascara, it's the boldest lash look you can find. But, it smudges on me unless I layer it with a tubing mascara. However, other people love it so you probably have to try it for yourself to see. Review here.
This also makes me sad that I don't love it anymore since it was the first brow product I fell in love with, but I've since started using the Tarte Busy Gals Brow Gel and like it better. Beautycounter's brow gel is a bit dry and can get clumps quickly.
I hated this from the very first time I used it. It was far too hard to blend.
I have dry skin and this made it even drier. If you have oily skin, you'll probably love it. It's a great cleaner option than most loose powders on the market.
It makes my legs and arms look amazing, but it makes an absolute mess and rubs off on clothes so it's not practical.
I hope that's helpful! If you have tried any products you love — or hate — feel free to share in the comments! Provide details around what you did or didn't like, as well as your skin type, so it's helpful for others!
The post My Favorite Beautycounter Products (and what I don't like) appeared first on TeriLyn Adams.
---