9 Outfits with Leggings for Comfort & Style
I'll jump right in and predict that outfits with leggings are about to become very fashionable. Here's my logic. So many of us are nearing the end of the long, dark tunnel of the COVID-19 pandemic. We're ready to go outside and explore the world, meet strangers, shake hands, hug, and laugh. But we've also spent many months wearing sweats at home and not thinking much about style.
As we return to a normal social calendar, the sweats and lounge wear may feel too casual, while high-waisted shorts and slinky crop tops may feel too high maintenance. A cute leggings outfit is the middle ground, the perfect blend of style and comfort. Combined with the right pieces, leggings are very stylish in an off-duty way. But they're also reminiscent of the joggers that comforted you through the pandemic.
This post may contain affiliate links. See our privacy policy.
So get ready to see ladies wearing legging in style this year. If you'd like to give it a try, here are 9 chic garments you can easily pair with your favorite leggings for women this 2021.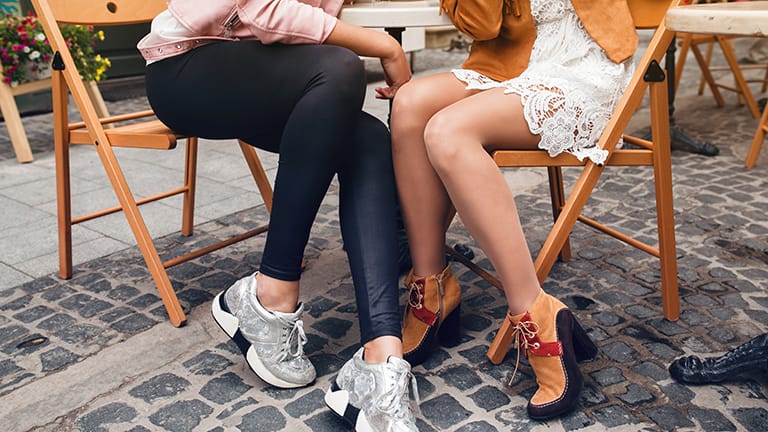 1. Match sneakers with your leggings
Here's an easy style hack for the plain black leggings we all have in our closet. Wear them with black sneakers. Women's leggings paired with sneakers of the same color looks intentionally stylish on your casual days. Plus, you can spontaneously decide to hit the gym later in the day without a wardrobe change.
2. Ankle boots and leggings
If you want to make it clear that the gym is on the day's itinerary, then pair your ankle boots with your leggings. For this outfit, a black-on-black pairing is the most subtle choice that takes attention off the leggings. But you can also double-down on this look with a set of leggings that contrast with your boots, in color or sheen.
3. An oversized jacket
Pairing your leggings with a cool, oversized denim or leather jacket adds pizazz to an everyday leggings outfit. Put on a plain or neutral-colored shirt with your leggings, then treat your jacket as the highlight of your outfit. The jacket will steal the show, and your leggings may go entirely unnoticed.
4. Sweatshirt with leggings
Wearing a sweatshirt on top of your leggings gives off a chill, relaxed vibe. This combination is a great option if you're planning on hanging out at home with friends or if you just want to get a breath of fresh air outside. Opt for a sweatshirt with a wider neckline for extra femininity and sex appeal.
You can wear a cami underneath if that's more comfortable, but you don't have to. Personally, I'd choose a bra in a girly color like pink and let the strap show.
5. Tunic and leggings
A colorful tunic is a great match for leggings. You have a lot of options here, too. You can highlight your tunic by wearing neutral-colored leggings. You can play with textures and don a pair of shiny or patterned leggings underneath. Or, you can go big on color and wear pastel or light-colored leggings.
6. Bright blazer
For a dressier alternative to the oversized denim or leather jacket, try a bright-colored blazer. As with an oversized denim jacket, the blazer can be the statement of this ensemble. Just choose muted, neutral tones for your leggings and top.
You can also go monochrome with this outfit. Matching your leggings and blazer creates a chic, ready-for-business look.
7. Oversized shirt
If you're heading out as quickly as possible and you want to blend in with the crowd, then an oversized top with leggings will do just fine. This is a low-maintenance combination that's fine for running errands or picking up your to-go food order.
You can easily play this off like you're a celeb who doesn't want to be recognized, too. Just add a baseball cap and large sunglasses.
8. A pretty blouse or dress
Leggings are pretty versatile, and a pair with the right material, texture, pattern, and color can be a great match for your favorite pretty blouse. Experiment with tucking your blouse in, too. This is a polished look, but it does not work with every body type.
You can also wear leggings under a dress if it's cool outside. A tidy pair of leggings can dress up a casual dress, while a patterned or workout legging will make your dress outfit more casual.
9. Crop top
A crop top and leggings is a popular look with the tall, thin women of Instagram — but any shape can pull it off if you have the confidence. If you're nervous about it, try adding a light bomber jacket over the top. Or, slip into your oversized denim jacket for more coverage.
For more leggings outfit inspiration, see our posts on How Old is Too Old for Leggings, How to Wear Leggings as Pants, and How to Wear Plus-size Leggings.
---