12 Natural Air Fresheners to Make Your Home Smell Clean and Crisp
If artificial scents make your nose wrinkle and sneeze, it's time to switch to natural. We can use many different scent combinations and tools to make the home smell amazing without all the chemicals. Try one of these natural air fresheners for the home!
I talk about scent so much on the blog. From the smells of freshly picked herbs to my latest soap recipe, scents have a way of cheering me up or relaxing me.
When writing about them, I so wish you could smell them yourself! My goal is that the pictures and words tell you enough about just how good these projects and recipes smell. And then you'll be encouraged to make them yourself.
Everything I make is 100% natural. Artificial fragrances REALLY bug my nose, and I find them irritating overall. Plus, their aroma never is as good as anything scented naturally!
Over the years, I've come up with many ways to freshen the home. Here are a few ways you can utilize natural air fresheners!
This post will cover…
Natural Air Fresheners
Whether you're looking to spruce up the closet or want the whole house to smell amazing, here are some of the best air fresheners for the home.
1. Natural Reed Diffuser
Reed diffusers have always been my preferred method for air fresheners. Not only do they look pretty, but they slowly emit fragrance, and it never becomes too overwhelming. Especially my natural version!
To make this diffuser, I gathered reeds and stems from my garden that are hollow enough to wick up the fragrant oil. The oil is scented with essential oils, and I have plenty of different scent combinations you can try to freshen up small spaces like hallways or bathrooms.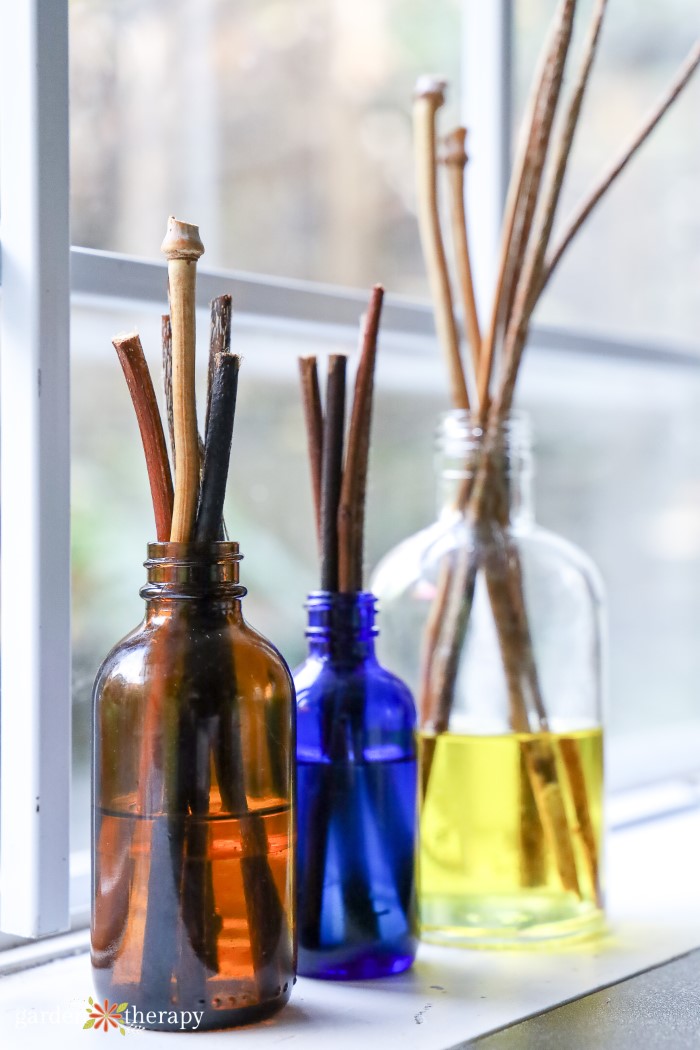 2. Pinecone Diffuser
Another excellent natural air freshener is to utilize pinecones. I don't know about you, but I cannot help but collect pinecones for crafting and decorating. This is just one of many clever ways to use them!
After cleaning the pinecones, you can scent them with essential oils. The result is a festively fall air freshener to display in your living room or anywhere else that needs a scent boost.
3. Lavender Linen Spray
I originally designed this spray to freshen up my clothes as I ironed them. It made my clothes smell fresh for much longer, and I just love inhaling the scent whenever I put on a new change of clothes.
You can use this spray for more than clothes, however. It works well on all kinds of fabric. Another favourite way to use it is by spraying it on couches or curtains. Use it like they do in those Febreze commercials!
4. Aromatherapy Closet Fresheners
Once upon a time, I had clothes moths, and I was absolutely horrified. After the initial cleanout of the closet and clothes, I needed to ensure they didn't come back.
These closet fresheners were my solution! I hang them in my closet among my clothes. They slowly diffuse strong-smelling essential oils into the closet, which repels the clothes moths. And I'm happy to report they never came back!
These could work well for any small space, including cupboards or even the car!
5. Lavender Dryer Bags
You'll catch on quickly just how much I love lavender. I grow it in my garden, and I use LOTS of it when it comes to these natural air freshener projects. One of the easiest ways to utilize it is with these lavender dryer bags.
They add a floral and clean scent to your laundry. You'll notice it on your clothes and also in your laundry room on laundry day! They're also a complete replacement for those chemical-laden dryer sheets.
6. Herbal Drawer Fresheners
It's easy to keep clothes in the closet smelling nice and fresh. Clothes in the drawers, meanwhile, can quickly smell a little musty and dusty. My fix for this is herbal drawer fresheners! These keep all your folded laundry smelling fresh, even if it's been in the drawer for a while.
For a special touch, I monogrammed my herbal drawer fresheners to give them as a gift. They're made from thrifted wool sweaters, making them even more eco-friendly!
7. Christmas Simmering Spices
The absolute best way to make your home smell amazing is with these simmering spices. Even on days when the oven isn't working up holiday baking, my house smells amazing thanks to these.
Also known as stovetop potpourri, you toss spice mixtures into a stovetop or crockpot and let them simmer for a delightful-smelling house. I have plenty of Christmas scent combinations for you to try, but you can easily customize them to use this natural air freshener method year-round!
8. Cleaning Bombs
If you're in the kitchen or bathroom and notice a faint, not-so-pleasant odour, it's probably coming from the drains. That's why I use cleaning bombs for the sink, toilet, bathtub, and garbage disposal.
They're super simple to use. You just pop them in the sink or toilet and watch them fizz. The fizzing cleans the area while also emitting essential oils. The effect is a clean drain with a lingering fresh scent in the air.
9. Lavender Spray Deodorant
I know what you're thinking…a deodorant?! But yes! I hate to say it, but sometimes it helps to freshen ourselves up too!
I use this recipe a ton, not only on my underarms but also on my clothes as well. One of the benefits of using natural ingredients is that they're safe for use in many different ways. Try this floral scent combination to freshen up your skin, clothes, or the air.
10. Cinnamon Dough Ornaments
I wish you could smell these cinnamon dough ornaments through the screen. This is another excellent seasonal air freshener for the home, perfect for the holiday season. The aroma reminds me of sweet spiced apples.
First, you get to smell the delicious scent while you bake the ornaments. Then, the ornaments will continue to scent the Christmas tree once you hang them.
11. Herbal Dream Pillows
This freshener is designed just for the bedroom! If you have trouble sleeping, one of my favourite techniques to promote sleep is actually scent.
This herbal scent blend is designed to emit a calming fragrance that helps put you to sleep. The pillows are great to sleep with but also make snuggling up on the bed that much cozier.
12. Herbal Wax Melts
Wax melts (and candles) are one of my personal favourite natural air fresheners for the home. A tealight sits inside the wax melt pot with the max melts atop. When lit, the wax slowly melts and releases the fragrance of the wax.
Making them yourself is quite easy! And they have none of those artificial scents you see with storebought wax melts. Instead, customize your scents with essential oils.
Frequently Asked Questions About Natural Air Fresheners
How can I make my home smell good naturally?
Essential oils are the best way to get a natural fragrance. Depending on what you mix them with, you can create sprays, scented oils, cleaning products, décor, and more to naturally freshen the home.
What makes your home smell good the longest?
My go-to recipe to make the home smell amazing is simmering spices. They linger in the air for days, and the aroma easily wafts through the entire house. Otherwise, I routinely keep my lavender linen spray on hand to quickly spritz and freshen up the home every few days.
How can I make my house smell like a hotel?
Hotels typically rely on very clean, crisp scents. I recommend my fresh air essential oil blend, including pine, eucalyptus, peppermint, and lavender. Another great combination is my good morning blend which includes peppermint, fir, and lemon. All of these are designed to be used with my natural reed diffuser.
What is a natural odour eliminator?
Baking soda will always be your best friend. It works great sprinkled in carpets, trash cans, drains, clothes, and more. Depending on the application, you may wet and scrub it before washing it out or vacuuming the excess.
Another common way to get rid of odours is vinegar. I use it in many of my cleaning recipes, and it works well to eliminate odours while cleaning simultaneously.
For freshening up the air, I always rely on essential oils. You'll notice they're in almost every recipe here! Making a simple spray, such as the lavender linen water, is great for freshening up the house quickly.
As you can see, there are so many ways to make your own natural air fresheners and keep your home smelling fresh and clean—scans harmful chemicals.
---
The Post 12 Natural Air Fresheners to Make Your Home Smell Clean and Crisp Was Originally Posted Here